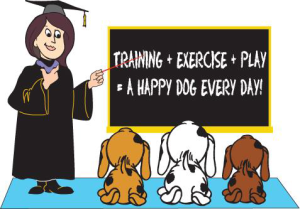 About Sunbury District Obedience Dog Club
In 1985 David Philips wanted somewhere in Sunbury to train his dog. David approached Peter Wood, a qualified instructor with the German Shepherd Dog Club Inc. to assist with forming a club. Eighteen people came to the first training session, and so the club was born.
A lack of training facilities did not deter anyone thus training commenced on a vacant piece of land in Evans Street that is now the site of Sunbury Shopping Square, and an old wooden Scout Hall was used as the clubroom.
The Sunbury & District Obedience Dog Club currently trains at Boardman Reserve in Mitchells Lane, Sunbury and has done so for many years.
Please contact the club via email or telephone for more information.
Your first class will be an Intro Theory class – your dog is not required at this class. It is an information session, introducing you to our training format. All new members must attend a Theory class before you start training with your dog.